Six predictions for the Australian economy in 2019
By Dr Shane Oliver – Head of Investment Strategy and Economics and Chief Economist, AMP Capital | 29 Jan 2019
Shane Oliver gives his forecast for house prices, economic growth and interest rates.
2019 is likely to be an interesting year for the Australian economy. Some of the big drags of recent years are receding but housing is turning down, uncertainty is high around the globe and it's an election year.
1. Economic growth may continue to slow
GDP growth for the September quarter was well below expectations—just 0.3% compared with the previous quarter or 2.8% compared with the previous year.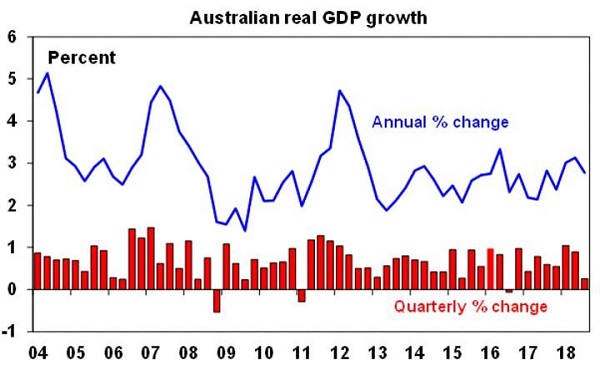 Source: ABS, AMP Capital
This suggests that the pickup in growth in the first half of the year was an exception. And it highlights that the fears around consumer spending may be well founded.
2. House prices will continue to fall
Over the past year a combination of factors has created a perfect storm for house prices in Sydney and Melbourne.
Poor affordability
Tight credit conditions
Surge in the supply of units
Collapse in foreign demand
Borrowers switching from interest only to principle and interest loans
Investor fears about potential changes to negative gearing and capital gains tax.
So we're seeing a negative feedback loop (falling prices > falling demand > falling prices) that could get worse if immigration levels are cut sharply.
Auction clearance rates have fallen to record lows while housing credit continues to slow.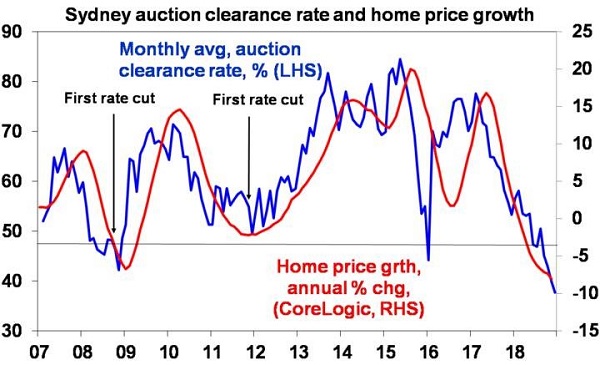 Source: Domain; AMP Capital
House prices in Sydney and Melbourne are likely to fall by around 10% in 2019 and 20% overall, compared with a 10% overall decline across the country, on average.
3. Falling house prices will drag growth down
The property downturn will have a significant negative economic impact, taking 1-1.2 percentage points off growth over the next year comprised of:
A reduction of around 0.4 percentage points a year in growth as the housing construction cycle turns down.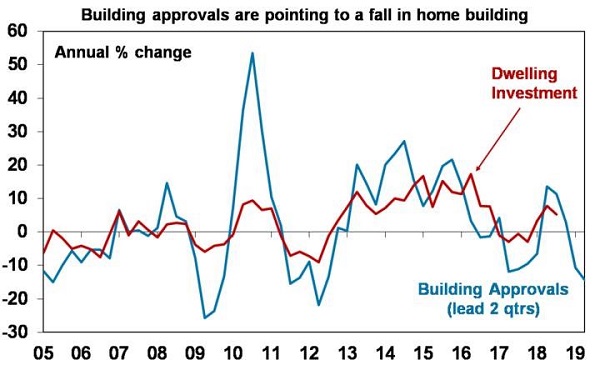 Source: ABS, AMP Capital
Reduced retail demand for household equipment as dwelling completions decline.
Negative effect on consumer spending of around 1% a year, taking around 0.6 percentage points off GDP growth.
Possible tightening on bank credit if non-performing loans and defaults rise.
4. Inflation will stay lower for longer
The decline in unemployment is likely to stall and underemployment will stay high at 8.3%, with wages growth remaining weak.
Other drivers of inflation are also under pressure. Intense competition means price discounting remains fierce and commodity prices – in particular oil – have fallen, lowering petrol prices.
This all points to a further fall in inflation this quarter with underlying inflation up just 1.3% year on year in November.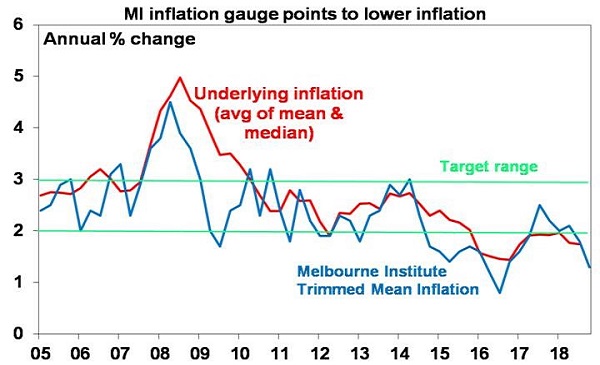 Source: ABS, Melbourne Institute, AMP Capital
5. There's unlikely to be a recession
Unless there's a deeper property slump, a recession is unlikely for a number of reasons.
The drag on growth from slumping mining investment is fading.
Non-mining investment is recovering.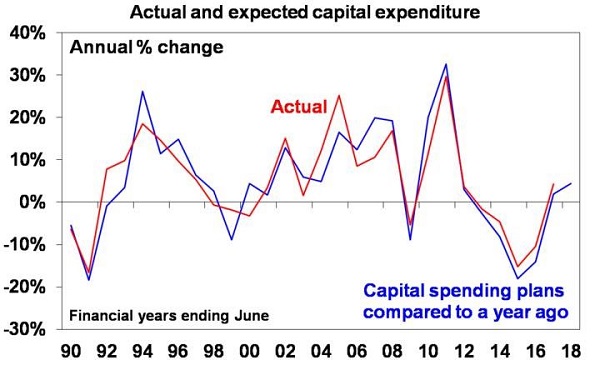 Source: ABS, AMP Capital
Public infrastructure spending is rising.
Net exports are likely to continue adding to growth, although US/China trade negotiations are a threat.
Consumer spending could benefit from lower petrol prices (saving around $10 a week for a typical household) and possible pre-election tax cuts or handouts.
So overall growth is likely to be around 2.5-3%. This is not the recession some fear but it's well down from the 3.5% the Reserve Bank expects.
6. The Reserve Bank will cut interest rates
Against the backdrop of falling house prices, tight credit conditions and constrained growth, which will keep wages growth weak and inflation below target for longer, the next move from the Reserve Bank is likely to be a rate cut in the second half of 2019.
But an earlier move can't be ruled out if the economy weakens. By the end of the year the cash rate is likely to have fallen to 1%.
Rate cuts won't be aimed at boosting the property market but supporting households with a mortgage to offset the negative wealth impact on spending. A 0.25% rate cut roughly saves a household with a $400,000 mortgage $1000 a year in interest. And banks will likely have no choice to pass the cuts on, given the bad publicity not passing them on will generate.
So what does all this mean for Australian investors?
Bank deposit rates will remain poor.
The Australian dollar is likely to fall into the high $US0.60s.
Australian bonds are likely to outperform global bonds.
Australian shares are still great for income but global shares better for capital growth.
Sit down with one of the friendly team to explore your situation.
Our first meeting is complimentary, we'll discover who you are, what's important to you and what you want to achieve.
It's also important you get to know us and how we can help you before moving forward.
Barry
Jon
One-step booking. Spam free.
Sarah
Vicky